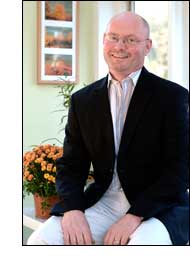 About Chris Ondrak
Botanicals are in Chris Ondrak's blood. As a native to Flemington, NJ and born to a family of a farming background, it was not long before his natural love for flowers emerged. By the age of 8, Chris outshadowed a neighbor when he planted some extra zinnias that she had given to him. "I think she was a little put off that my zinnia garden was prettier than hers," Chris now admits. At age 12, Chris entered a floral completion at the Flemington Fair, and took a number of ribbons for his floral designs.
With this natural love of flowers, it only stands to reason that 16 year old Chris Ondrak would take his first job at the local florist shop. His position was that of greenhouse assistant, but he often helped out in the front of the store, prepping flowers for the other designers during the busy times. The owner of that shop quickly noticed Chris' potential, and within two years Chris was a full-fledged floral designer.
Chris earned his Associates Degree in Ornamental Horticulture from Mercer County Community College in 1980. Over the years, he has supplemented his degree with formal training by master designers from around the world. He, himself, has also taught at the New York Botanical Gardens in the Bronx, and Floral Design for the Hunterdon County Adult Education (1982 – 2002). He has won many local and regional design competitions and has designed for many Garden Club and State Floral shows. In 1988, Chris was called upon to join the floral design team for the George H.W. Bush Inaugural Ball.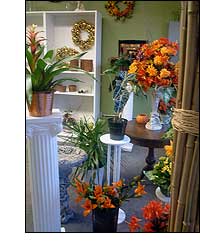 In 1989, Chris Ondrak ventured out and became the founder of the Gilded Lily Florist in Flemington, NJ. That same year, he became a member of the American Institute of Floral Designers (AIFD), a national organization that requires a designer's work to undergo rigorous judging and scrutiny in order to become a member. To be an AIFD member means that the floral designer has risen above the highest standard set in the industry.
Other achievements to Chris Ondrak's credit:
President, New Jersey State Florist Association (1999)
Featured Designer at the Boston (1998) and New York (2004)
AIFD Symposiums AIFD Northeast Region Board of Directors and Chairperson (2001 – 2006)
AIFD Northeast Region President (2007)
Headed up the Regional Exhibit for AIFD at the Philadelphia Flower Show (2006)
With such outstanding dedication and achievements in the floral industry over the years, Chris Ondrak continues to produce the highest quality floral products and design for his customers, and always captivates his bridal clients with the flowers they've been dreaming of. Contact Chris Ondrak at the Gilded Lily Floral Studio for all your floral needs.